Park signs are an important piece of park management. Typically, a visitor interacts with signs more often than they do with park staff. The words on signs create an identity for the park.
How many parks take the time to review signs to consider the identity they create through signs?
For this episode, Mike Kim joins the Park Leaders Show to review park signs to talk about how to create great park signs. Mike Kim is a marketing consultant, professional copywriter, and brand strategist. He is also a Chief Marketing Officer for a multi-million dollar private company in the New York City area.
In most parks, consideration is given to placement of signs and amount of signs, but how often do we consider the words we put on signs? Mike reviews three park signs and discuses, from a marketing perspective, the impact and perception of each sign. Along the way, he offers advice on how to create great signs.
After reviewing park signs, we move to discuss other writing that can impact a park visitor. Mike also offers tips on writing better event flyers and park brochures.
With an event flyer, you should use a nice photograph and a catching headline. This will capture attention and get the reader to pick up your flyer and read the content. The rest of the text should use descriptive words to draw the reader in.
Brochures can help visitors get more out of their experience at your park. Don't use a brochure to give facts and information. Tell a story, paint a picture, and let the visitor know what kind of experience they will have at the park.
Mike Kim reminds us that everything we say (including signs), and everything we do, is our brand.
Below are the three signs reviewed in this episode of the Park Leaders Show. All three signs are from different parks in different states.
This sign is an entrance sign to a State Park:
This sign is at the entrance to a park campground: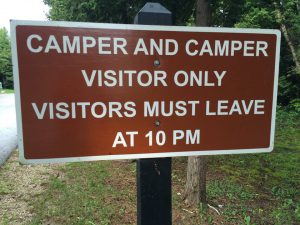 This sign is on a large information board at a trailhead:
You can subscribe to the Park Leaders Show in iTunes and Stitcher Radio.