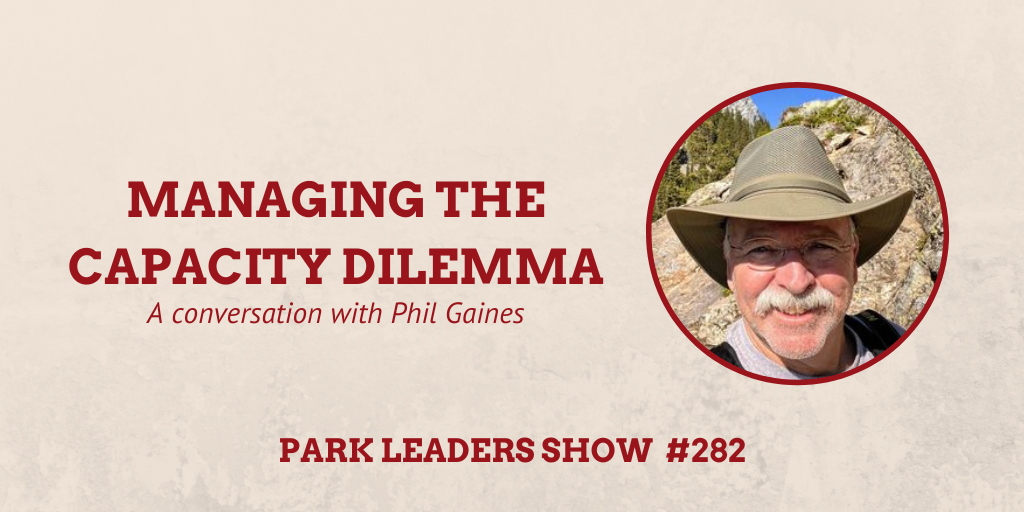 Capacity is a big challenge for this generation, especially post-pandemic. We need to rethink how we get people into these special places while preserving their natural beauty and ensuring a meaningful and enjoyable experience. – Phil Gaines
As national park attendance continues to increase, managing visitor numbers has become crucial. The pressure is on park officials to accommodate the influx, while ensuring a quality and safe experience for all. As a seasoned park ranger, Phil Gaines understands the importance of preserving the natural beauty and integrity of parks. He joins for a conversation about managing the capacity dilemma, because since the pandemic there has been an ongoing influx of visitors.
Despite the challenges, workers have made notable efforts keeping the parks clean and the trails well-marked. However, as we dig into this even deeper it is quite disheartening to recognize the potential impact of overcrowding on the park's environment. There are a number of concerns in the parks such as increasing erosion and crumbling of the asphalt due to overuse. The behavior of visitors has also created dilemmas that were once considered less common. Too many are acting recklessly by taking selfies with bison or venturing too close to boiling geysers. While it is wonderful knowing people are exploring parks, it is important to acknowledge the reality of dealing with the increased interest in parks. People have now discovered their value, so we have to find a way to preserve it.
Take a listen to this episode as Phil and I talk about recent trips that really brought to light the challenges that popular parks face in managing their capacity. This is a topic that needs more attention so make sure to share this episode with others.
Resources
https://parkleaders.com/about/
Facebook – https://www.facebook.com/theparkleaders/
Episode Highlights
00:02:22 – Visiting Glacier National Park and Yellowstone,
00:06:28 – Adjusting to Increased Attendance
00:08:26 – Challenges of Managing Crowds
00:11:57 – Employee Recruitment and Park Operations
00:14:12 – The Importance of Connecting with Nature
00:15:34 – The Dilemma of Crowds in Parks
00:17:23 – Capacity Issues and Spectacular Locations
00:21:45 – The Impact of Individual Behavior
00:26:21 – Balancing Visitor Access and Preservation
00:29:15 – The Impact of People Discovering Parks