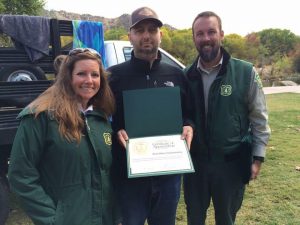 Gary Ananian is the founder of the Kern River Conservancy. He is a volunteer who pours his own time and money into protecting a river he loves.
Vandalism and trash got so bad on the Kern River that Gary started camping elsewhere. The lure of the river brought him back, but he was again faced with trash and vandalism. When he discovered there was not a single conservation group dedicated to protecting the Kern River, he founded a group to begin to clean up the river.
The Kern River was designated as a Leave No Trace Hot Spot and Gary worked with Sam Ovett and Jenna Hanger. Together, they helped transform the Kern River and work with the public and land management agencies to give the river a promising future.
Gary explains how volunteers can work with and educate the public in a way uniformed staff can not.
Through his work on the Kern River, Gary has shown one person can have an impact.